Welcome to the North Adams Community Memorial Library!
Home page
THE NEW LIBRARY IS OPEN...
We are currently in Level 2 of 6 with our reopening plan, which is Social Distancing. We are open to the public with some restrictions/limitations of services as outlined in our Reopening Plan (see News). The Library Board has decided to operate at our regular hours, and we are able to have a total occupancy of no more than 17 persons at one time. Due to this restriction, we ask that you please call or email the library before entering if our parking lot is busy. Remember, our CURBSIDE PICKUP is always available.
We ask that our patrons please be mindful of all patrons and staff while inside the library, and continue to wear a mask and social distance. Please continue to place all book returns, including MeLCat items, in the outside Book Drop. 
We appreciate your patience and enthusiasm as the new building opens up for full hours and services. Regularly scheduled programs and events will resume shortly, so please keep a lookout on this page and our library Facebook page for details!
See the library's COVID-19 Preparedness and Response Plan, and Reopening Phases under COVID-19 Resources.
-----------------------------------------------------------------------------------------------------------------------------
Remote access to Ancestry Library Edition has been extended through December 31, 2020!

Services YOU Can Use!
(Please take advantage of these services)
Check the "Reference" section of the left-hand column. It contains many useful links. A link to the Secretary of State's web site to renew your driver's license, plates, or change your address. There is another link to practice tests for Michigan driving tests. Looking to make a big purchase? Use Consumer Reports to see what they think of it. There is a link to MeL (to borrow something from a different library than ours). The balloon is the link to MAP where you can "check out" passes to a large variety of parks, museums, etc. There are also links to  RBDigital (over 250 magazine titles to download, including back issues); and, Mango Language (complete lessons for 70 languages). One link in that list, Ancestry Library Edition, must be used in the library. You can use either your own computer, or one of ours, to access census records, military records, and a great many more!
Activities below this line not presently meeting
----------------------------------------------------------------------------------------------------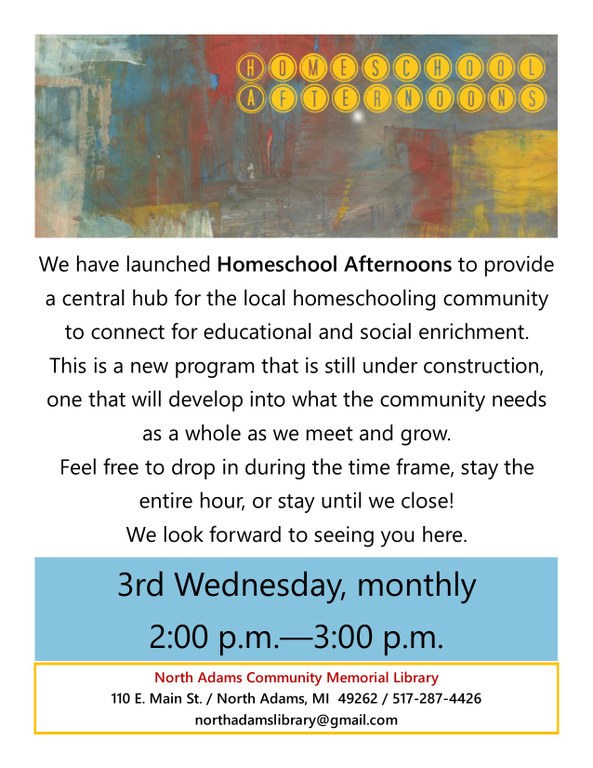 __________________________________________________________________________
Needle Arts!
If you knit, crochet, tat, needlepoint, quilt, cross-stitch....anything that involves a needle of any sort and floss, fabric, yarn, etc., and you are looking for a place to work on a project while chatting with like-minded folks, this is the place!
(So far, we have mostly knitters and cross stitchers.)
The group meets on the 3rd Wednesday night of the month, from 5 to 7.
Come when you can, stay as long as you can. All skills and skill levels are welcome!
__________________________________________________________________________
Book Club
Are you a past Book Club member, or interested in joining? Please call or email the library and leave your contact information. We hope to be able to resume meetings as soon as we are able.
__________________________________________________________________________
Check out the link to Local History and Genealogy, located in the bar beneath the logo at the top of the page.
Your library resources available anytime, anywhere:
- Work and research from the office or from home, anytime
 - Book reviews, top sellers, author interviews, and news headlines